Alyssa Rapp
Founder & CEO
---
Alyssa J. Rapp is the Founder & CEO of Bottlenotes, Inc., the leading interactive media company in the U.S. wine and craft beer industries. Bottlenotes is dedicated to educating and entertaining consumers via four primary channels: (1) email newsletters (The Daily Sip®, received daily by over 350,000 wine enthusiasts by email and 265,000+ on Facebook, and the Weekly Pint, with over 150,000 subscribers both on email and via Facebook), (2) large-scale interactive events (Around the World in 80 Sips, Taste Around Town, and iBev, the leading social and digital media conference for the beverage industry), (3) social media platforms, and as of 2014, video content.

Alyssa was named in Inc. Magazine's "30 Under 30" coolest entrepreneurs in America, one of Playboy.com's "10 Sexiest CEOs in America," and one of the wine industry's 100 most influential people by Intowine.com in both 2012 and 2013. Most recently, Alyssa accepted two awards on the company's behalf at the Empact 100, featuring the top 100 companies with a founder under 35: both the People's Choice Award and the Top Advertising and Marketing Company award. (Coverage of the award ceremony at the United Nations is available via a Fox Business Network segment available via this link.)

Alyssa is the author of Bottlenotes Guide to Wine: Around the World in 80 Sips® (Adam's Media, October 2008) and frequently appears on national television (The TODAY Show, Fox Business Network, ABC, CBS, NBC, The Rachael Ray Show, and more- see www.bottlenotes.com/press for complete list of appearances) as an expert on wine and entrepreneurship. Alyssa earned a B.A. in Political Science and the History of Art from Yale University in 2000 and an M.B.A. from Stanford University's Graduate School of Business (GSB) in 2005; she is proud to join the GSB as an appointed lecturer on the Global Dynamics of the Wine Industry as of Spring 2014.

Alyssa serves on the Board of Trustees for Hubbard Street Dance Chicago, the country's preeminent contemporary dance company, and on the Executive Board of Spark Program, a national non-profit that provides transformative apprenticeships for at-risk middle school students.

When not immersed in entrepreneurial life, Alyssa loves to run track, do yoga, ski fast, and try as hard as possible to decipher a slider from a curve ball with her husband, former MLB World Series champion and current Director of Professional Scouting for the Los Angeles Angels, Hal Morris. Alyssa and Hal are also proud parents of Audrey Margaret (born: September 12, 2012).
Kimberly Donaldson
Co-Founder and Managing Director
---
Kimberly Donaldson founded the Donaldson Design Group, a corporate branding, graphic design and marketing firm based in New York, in 1994. The firm's clients included companies from the financial, fashion, entertainment and wine industries. She has worked as a consultant to Kobrand Corporation, creating marketing programs for various wineries including Cakebread Cellars. Kimberly received a B.A. from Yale and a Master of Fine Arts from Boston University School for the Arts.
Anthony Overstreet
Director of Operations
---
Anthony joined the Bottlenotes team in the fall of last year. He currently manages Bottlenotes' Facebook Fan Acquisition and production for The Daily Sip and The Weekly Pint. Prior to joining Bottlenotes, Anthony worked for the International Trade Administration and the Seattle /Northwest chapter of the Keiretsu Forum, and as a "Bulldogs on the Bay" summer intern with Bottlenotes. Anthony graduated from Yale University in May 2012 with a B.A. in economics.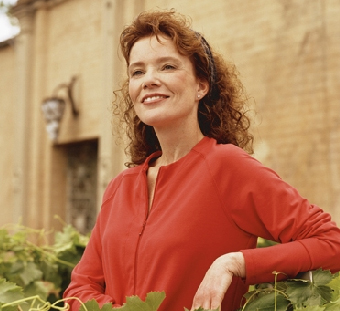 Karen MacNeil
Editor-in-Chief
---
In knowledge, skill, style, and presentation, no one in America tops Karen MacNeil when it comes to wine. The preeminent wine educator, wine consultant and author of The Wine Bible, Karen has won every top wine award in the English language. With her extensive wine knowledge and uniquely creative viewpoint, she knows how to captivate audiences large and small, and how to present wine in an engaging, real-world, American manner. For Karen, wine is more than a beverage; it's a communal passage into the culture of living well.
Sophie Menin
Contributing Editor
---
Sophie Menin writes the "Life with Wine" column for The Daily Sip. Her work has appeared in Wine Spectator, The Daily Beast, Barrons, The New York Times, Departures, Saveur and Fine Cooking. She earned her BA in Fine Arts and MA in Cultural Reporting and Criticism from New York University, as well as a professional degree in Culinary Arts from the Institute of Culinary Education and an Advanced Certificate from the WSET. In 2011, Sophie was one of three journalists shortlisted for the Louis Roederer International Wine Writer Awards in the Emerging Wine Writer category.
Jennifer Fiedler
Editorial Director, The Proof
---
Jennifer Fiedler is the author of The Essential Bar Book: An A-to-Z Guide to Spirits, Cocktails, and Wine, with 115 Recipes for the World's Great Drinks (Ten Speed Press, Oct. 2014) and a former editor at Wine Spectator magazine. Born and raised in Honolulu, Hawaii, she got her start in the food and wine world while working harvest at a winery in New Zealand after high school.

A graduate of Yale University and the French Culinary Institute, she has notched time in the fields on an organic farm in Virginia, in New York City kitchens as a personal chef and caterer, and behind the desk as a researcher and writer for books and magazines. She lives on the North Shore of Oahu.
Michelle McCabe
National Events Manager
---
Michelle's passion for event planning and love of food and wine made the decision to join the Bottlenotes team an extremely easy one. She has been planning events since childhood and more recently has been actively creating fundraising events for non-profit organizations like the Junior League of San Francisco and planning the perfect day for soon to be brides (including her own in Sonoma) as a wedding coordinator for Dream a Little Dream Events. Michelle received her MAS in Communication and Business from the University of Colorado at Boulder (CU).
Nicki Spear
National Sales Director
---
Nicki comes to Bottlenotes with 10 years of media advertising sales experience. It was in 2008 that her passion towards wine peaked and she achieved her Advanced Certificate with the WSET. After 4 years of sales experience at TV Guide and The New York Post, Nicki went on to fully embrace the wine industry by leading digital sales efforts for Snooth Media. She's now thrilled to be managing Bottlenotes sales and sponsorship programming across our digital email, live event, social media, and video program platforms! Nicki received her B.S. In Marketing with a Minor in Speech Communications at Penn State University. She resides in Brooklyn, NY with her husband and beautiful baby girl.
Devin Parr
Senior Program Manager
---
Six years into a successful career in Public Relations in the video game industry, Devin found herself so drawn to the siren-like call of the vine that she moved to Italy to study culinary arts and wine at the Apicius International School of Hospitality. Since then, she has helped open a teaching restaurant in Florence; launched the first US location of the wildly successful Canadian retail chain, DavidsTea; co-founded Champagne and Hotdogs, a wine events and consulting business and blog; and served as the wine director and general manager of a boutique wine store in Manhattan. A move back to California from New York brought her to Bottlenotes, where she now oversees food and wine programs like the 3-city restaurant week for wine series, Taste Around Town. Devin earned her B.A. in Political Science and Economics at UC San Diego. She currently resides in Los Angeles with her husband and two bossy Shih Tzus, making it her personal mission to return Merlot to its former, pre-"Sideways" glory.
Christian DeBenedetti
Editorial Director, Weekly Pint
---
Food, drink, and adventure travel writer Christian DeBenedetti is author of The Great American Ale Trail (Running Press 2011), a best-selling, New York Times-acclaimed guide to U.S. craft beer destinations. Named Beer Correspondent for Food & Wine in 2011, his writing has appeared in The New York Times, Newsweek, Bloomberg View, Departures, Esquire, National Geographic Adventure, Saveur, Outside, Slate, and others. In 1996 he earned a Thomas J. Watson Fellowship to undertake a year-long post-graduate independent study of ancient beer brewing techniques of fourteen European and West African countries. He has appeared on ABC's Nightline, World News Tonight, NPR's Splendid Table, and as a guest speaker for The Explorers Club and the Craft Brewers National Conference in 2010. A resident of New York City from '01 - '09, he is a co-founder of The Zythos Project, a design and engineering firm dedicated to innovation in craft beer, and has also worked in a series of wineries, breweries, and a cooperage in his native Oregon, where he now lives.
Bryce Wiatrak
Social Media Manager and Content Associate
---
After two summers as a Bottlenotes intern, Bryce is thrilled to continue working with the team in his new role as Social Media Manager and Content Associate. Bryce was immediately captivated by the world of wine while working at Bottlenotes in the summer of 2013. Thereafter, he continued his wine studies as a rising senior at Yale by writing a column for the Yale Daily News, which he affectionately named Winesday.

After graduating from Yale with a degree in American Studies, Bryce moved to San Francisco, where he finds solace in his proximity to Napa and Sonoma. He is presently studying for his sommelier exam and hopes to achieve certification in the spring of 2015. Bryce also lives a double life as an operatic baritone. When not working at Bottlenotes, Bryce is simultaneously earning his Masters of Music in vocal performance at the San Francisco Conservatory of Music. For Bryce, few evenings are better spent than those that involve live music paired with an excellent bottle of wine, shared in the company of family and friends.
Stephanie Krikorian
Contributor, The Daily Sip®
---
Wherever Stephanie Krikorian was sent on a story as a TV news producer, she usually managed to squeeze in a visit to a winery. Her most extreme find: The Golan Heights Winery in Israel. Stephanie worked in television news for fifteen years as a producer and foreign bureau chief for CNBC, Reuters, BusinessWeek and Global TV in Canada. She developed and launched the WSJ.com's live online programming. Today, she's happy not only to be a wine consumer (her favorite is big red), but writer. Stephanie is a New York Times bestselling ghostwriter who has collaborated on fifteen books on a wide array of topics for various celebrity authors. She also contributes to the Wall Street Journal, O The Oprah Magazine, Hamptons, The Daily Sip and several other publications, writing about wine, health, television, finance and her successful attempt at completing the New York City Marathon. In 2013, she created, sold and executive produced a reality show for an NBC cable entity, which was nominated for an Emmy in New York. She is an avid yogi and she loves aged Gouda. Follow Stephanie on Twitter @StephieKrik.